Composite Rebar Delivers Sustainable Infrastructure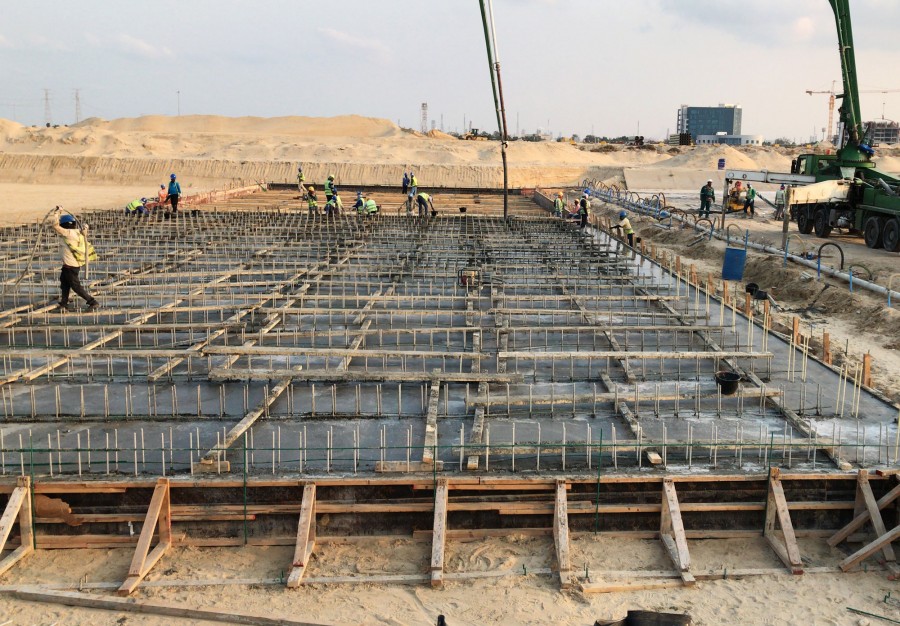 With investment from governments and transport agencies to fund critical infrastructure projects that are resilient and sustainable, there are clear opportunities for engineers to investigate non-metallic composite rebar. It is a durable concrete reinforcement that eliminates corrosion risk and delivers longer life cycles compared to other types of rebar.
Composite rebar technology has matured and prices have dropped considerably, making it a viable alternative to steel rebar.
Designing infrastructure that achieves the sustainable and energy balance has proven to be better for the economy, the environment, and people.
Non-metallic Composite Rebar: the Alternative to Steel
Glass fiber-reinforced polymer (GFRP) rebar is designed for highly aggressive environments. It has a unique combination of mechanical properties that offer a superior alternative to steel and other types rebar, particularly when working in aggressive environments.
Composite rebar traits include:
Corrosion-resistance
High chemical resistance
Lightweight - 1/4 that of steel
High tensile strength - twice that of steel
Transparency to magnetic fields and radar frequencies.
Mateenbar™ is the high-performance glass-fibre reinforced polymer (GFRP) rebar developed at Pultron. It is considered the leading composite rebar and is used in a growing number of high-profile projects such as:
It is used in a range of heavy load applications including underwater structures, bridges, roads, and industrial sites. More case studies can be viewed here.
Steel, Concrete, and Corrosion
Steel and concrete have long been the materials used by engineers for infrastructure. In many cases, they are still suitable materials for many buildings or structures - but steel is not the best reinforcement when there is corrosion risk.
The knock-on effects of corroding steel reinforcement used in concrete structures run deep. When steel corrodes it expands, causing concrete spalling. Repair and replacement lead to higher cement production. The negative environmental impact is repeated every time the infrastructure reaches the end of life and is rebuilt.
Corrosion risk to steel products in New Zealand
New Zealand provides an excellent case study for the impact of corrosion. It has 15,000kms of coastline; areas of high geothermal activity; humidity; heavy rainfall in parts; and extreme weather events. It is a corrosive environment and one where steel rebar often fails. To extend the asset lifecycle of infrastructure, maintenance programs are put in place to slow and manage corrosion damage – all at significant cost to governments and communities.
But, this is not just a New Zealand phenomenon. These challenges are worldwide, particularly in countries where there have been ongoing struggles with aging infrastructure, corrosion, and failures caused by the extreme effects of climate change.
Maintenance is expensive and only serves to delay rather than eradicate the risk of corrosion damage. A report by theTe Waihanga, New Zealand Infrastructure Commission highlights that for every $40 spent on new infrastructure $60 is spent on maintenance and renewal. The report further states, 'If we were to simply keep doing what we've always done and try to build our way out of the current and future infrastructure challenges, it would cost almost double what we're spending now.'
Mateenbar™ is already used in over 1500 projects and is supported by design codes and standards. It is a step in the right direction to deliver stronger and longer-lasting concrete structures.
Mateenbar™, is Manufactured in North America, New Zealand, and Saudi Arabia
Mateenbar™ is tested and approved with design codes and standards. Pultron Composites manufactures its rebar technology, Mateenbar™, locally from Gisborne for the Oceania market. It is also manufactured at facilities in Saudi Arabia and the USA.
In many countries, the cost of corrosion to the economy is staggering. Mateenbar™ will play a key role in reducing expenditure and delivering durable concrete structures for communities in these regions and worldwide.
Non-metallic Composite Rebar for Sustainable and Cost-effective Infrastructure
There are a few notable advantages of non-metallic composite rebar where engineers can deliver cost-effective and sustainable infrastructure solutions. The most important advantage is its corrosion resistance. No maintenance work is needed (labor savings, chemical sealers savings) and, because it is not impacted by corrosion, and requires less concrete coverage. The manufacturing process to make composite rebar is also low energy, with a 15% lower carbon footprint than steel (comparison based on the manufacture of steel).
A research project conducted by the Florida Department of Transport and the University of Miami – consisting of a 100-year life-cycle study of a 57m x 18m bridge - showed a composite-reinforced bridge reduced global warming potential by 390Ton or 26%. Please see the schematic below: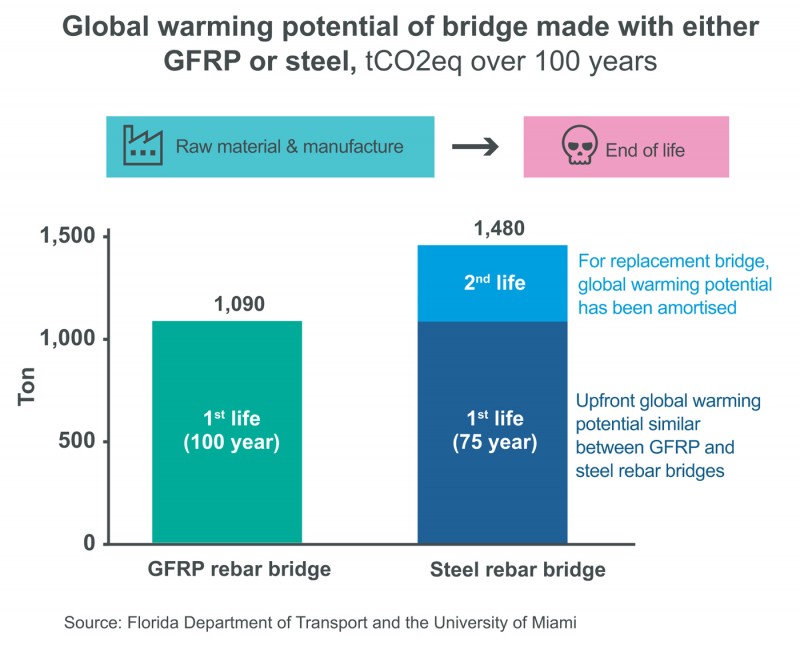 Achieving the sustainable balance
Resilient, sustainable infrastructure delivers a positive impact on our standard of living. GFRP composite rebar provides strong building blocks to deliver positive outcomes to people and the environment.
Environmental stewardship:
It does not corrode or cause concrete spalling.
Long-lasting structures result in less damage to the environment.
Requires less concrete coverage.
GFRP composites have a 15% lower carbon footprint than steel.
Less tonnage is required.
Economic prosperity:
Longer life cycles. Non-corrosive durable rebar saves money otherwise spent on maintenance and preventative corrosion measures.
Prices of GFRP have reduced, as the design and manufacturing of GFRP rebar have been optimized.
Eliminating the risk of corrosion in infrastructure is a big step towards a sustainable environment.
Less maintenance (e.g. roadworks) reduces economic losses through delays and business interference.
Social responsibility:
Mateenbar™ lighter than steel, making it easier to install – and fewer injuries to workers.
Robust infrastructure, particularly roading and bridges, allows supply chain companies and communities to travel safely and freely without delays caused by maintenance and upgrade work.
Composite Rebar Supported by over 30 Years of Research
Leading university and civil engineering academics are committed to continuing their research and advocacy of composite rebar – such as Antonio Nanni, Professor and Chair, Department of Civil, Architectural and Environmental Engineering at the University of Miami who has a strong focus on the sustainability of buildings and infrastructure.
"Studies on the performance of Fiber-Reinforced Polymer (FRP) reinforcement in seawater and salt-contaminated concrete have been conducted and show that the technology is a viable solution."
Source: Life-Cycle Cost and Life-Cycle Assessment Analysis at the Design Stage of a Fiber-Reinforced Polymer-Reinforced Concrete Bridge in Florida, Authors: Thomas Cadenazzi, Giovanni Dotelli, Marco Rossini, Steven Nolan, and Antonio Nanni.
Look to the Future with Alternative Construction Materials
Sustainability in infrastructure has been long talked about but is now at the forefront of decision-making for governments, engineering consultants, and asset owners. Designing infrastructure that achieves a sustainable energy balance has proven to be better for the economy, environment, and people.
Just like the ancient Romans, we want our infrastructure to stand the test of time, serve our communities, and have minimal impact on the environment. With leading composite rebar, Mateenbar™, manufactured in New Zealand, America, and Saudi Arabia, it's now up to us to make it happen.
Have questions about composites and pultrusion? Talk to one of our experts.
---
About the author: Pete Renshaw is the Business Development Director at Pultron and serves as the Chief Technical Officer for Mateenbar Limited. He has over 25 years of experience working with pultrusion technology.