Pultron Celebrates 40 Years of Pultrusion Innovation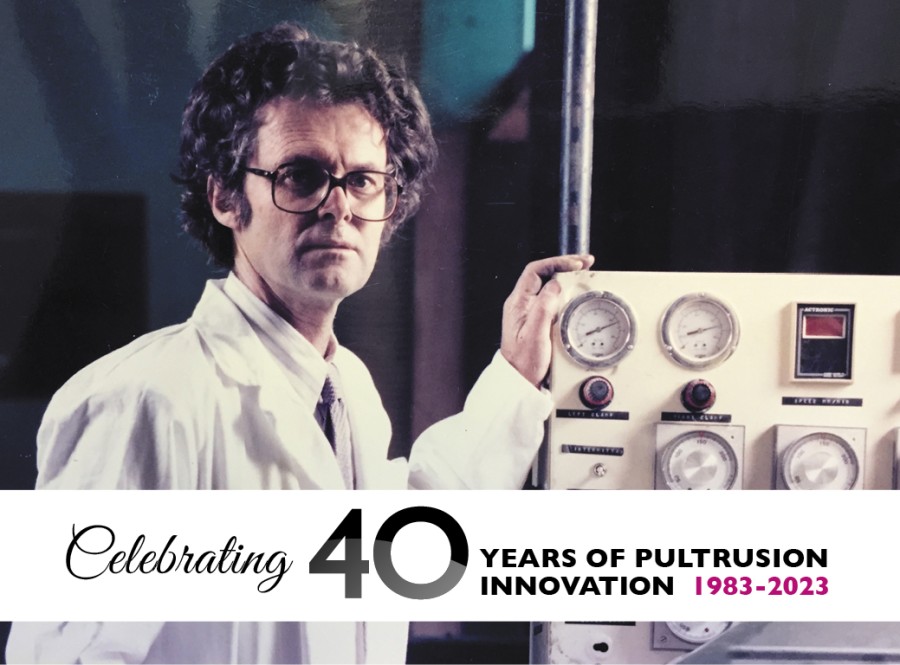 Pultron Composites, a global leader in the development and manufacturing of high-performance pultrusion composites, celebrates 40 years in business. Since its establishment in 1983, Pultron has been at the forefront of world-first innovations that revolutionized the composites industry and provided highly customized solutions for its loyal customer base.
Pultron specializes in developing and manufacturing glass fiber-reinforced polymer (GFRP) pultruded composites. GFRP is corrosion-resistant, highly durable, and lighter than steel making it an ideal material used in industries ranging from sports to infrastructure.
Founded by inventor and farmer, Dr. Peter Holdsworth (pictured above) and businesswoman, Dame Bronwen Holdsworth, Pultron Composites embarked on a journey four decades ago with a mission to redefine the possibilities of composite materials. Through a 40-year commitment to innovation, Pultron has established itself as a reputable leader in the industry, exporting its products and technology.
Over the years, Pultron has achieved several remarkable milestones, setting new standards and developing products that have displaced traditional materials such as steel, timber, and aluminum. Some of their notable innovations include:
Mateenbar™: the world's leading GFRP concrete rebar which is manufactured in New Zealand, Saudi Arabia, and the USA. Mateenbar™ delivers sustainable infrastructure outcomes even in highly corrosive environments.
Marina Floating Docks: a self-locking tie-rod and waler system that has displaced steel and timber in marinas internationally.
The World's Safest Trampoline: a composite rod system that acts as an energy absorption spring, developed to replace the traditional steel spring system.
Pultron has successfully expanded its global footprint with technology transfers to the Middle East, and to America in recent years. This global presence has enabled the company to provide cutting-edge composites to clients around the world, addressing diverse needs across industries such as infrastructure, transportation, and industrial applications.
Reflecting on the last 40 years, Chairman, Dame Bronwen, said: "It is exciting to see how far Pultron has come since its inception. From the outset, we were determined to be innovative, focussing on research and development, and being internationally competitive. Our success has been due to the commitment of our team and the engagement of our customers."
Founder, Dr. Peter Holdsworth, noted that it was very satisfying that an idea he initially developed in a farm shed had come to fruition and has expanded, and grown into an international business.