Building on an Atoll: Marshall Islands School Development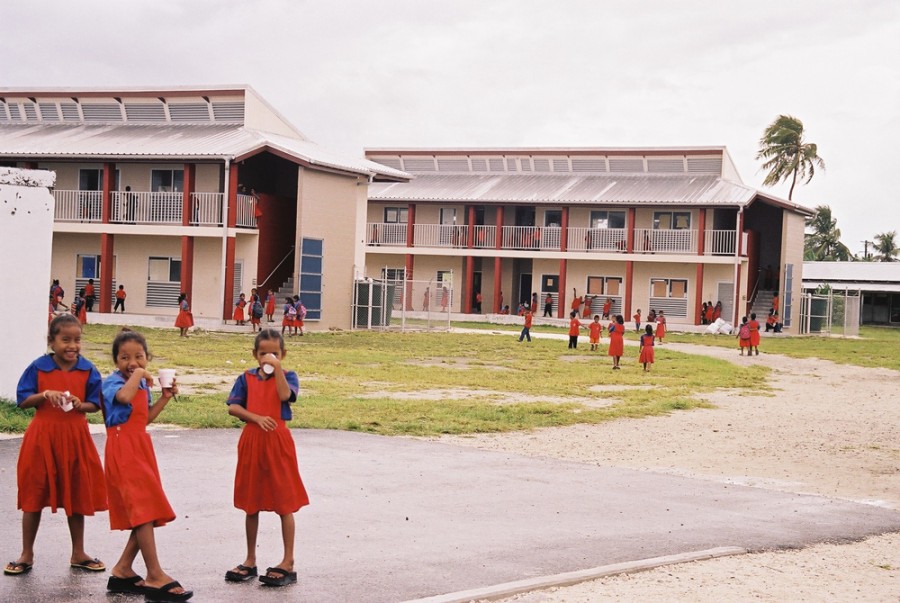 In 2009, Pete Renshaw boarded an almost empty, 737 from Australia and island-hopped his way to the Marshall Islands. He spent a week on the islands, meeting with contractors who were building 12 schools with engineering consultancy, BECA. The project was part of the Infrastructure Development Maintenance Program funded by the US government.
The Marshall Islands are situated halfway between Australia and Hawaii. Made up of a chain of 34 islands built on top of volcanic rock and coral atolls. The entire country is just 2.1 meters above sea level with the majority of buildings on the water's edge with many parts of the atolls less than 100m wide. All surrounded by the Pacific Ocean, there is no surface source supply of fresh water and limited funding making desalination not affordable.
13 years on, Pete still considers this one of the most memorable projects he's been part of.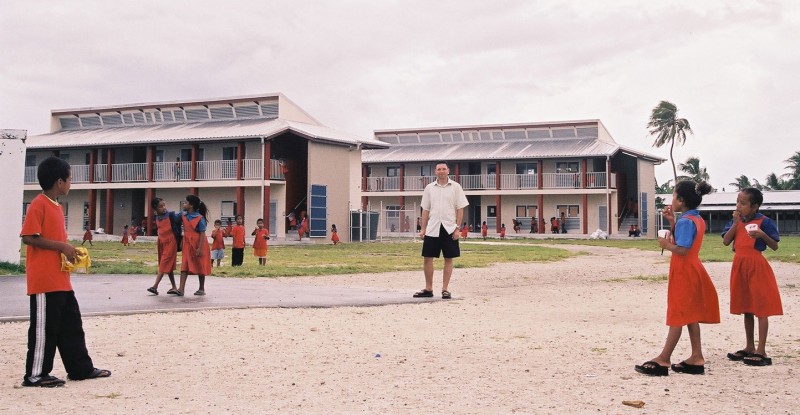 How did the job with BECA come about?
The US was giving aid money to the Marshall Islands to build schools and hospitals and BECA won the contract for the design. BECA has worked on the Marshall Islands previously so they had a good understanding of the challenges that come with building on the atolls. The projects were designed by a forward-looking engineer in their Tauranga office.
There are no quarries where they can get clean aggregate so the Marshallese use mined coral from the beach as aggregate.
Funding for repair and maintenance was minimal so the ultimate goal was to design for longevity. He was looking for an alternative to steel rebar because he knew the environment and construction practices on the Marshall Islands were detrimental to the performance of traditional steel rebar. The correct choice of new building materials was critical to providing durable, long-lasting infrastructure, so they contacted Pultron about using GFRP rebar, Mateenbar™.
What did the job involve?
The engineer designed for GFRP rebar using ACI standards. This made life relatively easy as there was no need to convert designs that were done in steel rebar. Based on the drawings we worked through the quantities and made bends as specified for the job. There were some bends where we proposed alterations to help reduce costs, typically including simpler bent shapes and lap joints to longer straight bars. The proposed changes were sent to BECA for approval – the process was pretty straightforward.
Mateenbar™ concrete reinforcement was used in construction elements including cast in-situ concrete floor slabs, short-span gravity beams, foundations, and non-load-bearing walls.
What are some of the challenges of building in the Marshall Islands?
There are complexities involved in buildings and other infrastructure projects on the Marshall Islands.
The environment is highly corrosive, with evidence of damage everywhere. A good example is a hotel we stayed at. The hotel was only built 10-12 years previously and was already showing major corrosion damage with concrete spalling exposing the steel rebar. When traveling by taxi, you can see the road through the floor the steel had rusted away.
The lifecycle of steel products is short and repair work is costly. Using Mateenbar™ eliminated corrosion risk and because it's lightweight it was faster to install and reduced freight cost.
What was critical for engineers to consider when working in the region?
Land is scarce. There are no quarries where they can get clean aggregate so the Marshallese use mined coral from the beach as aggregate. This creates an additional challenge because the coral is filled with salt. Although freshwater (and sometimes seawater) is used to create concrete, the resulting concrete is not suitable for traditional steel rebar.
What were your first-hand experiences of the Marshallese people and the island?
They are some of the nicest people I've ever met. When you walk down the road school kids give you a high-five knowing you are a visitor. Always happy and smiling even though they have very little. It's a fantastic place.
What are some of the challenges Marshallese faces in the future?
Global warming and climate change are the greatest risks, with rising sea levels of around 7mm a year for the last 20 years.
The Marshall Islands is a developing country – food is expensive and very little is grown locally. They live on a westernized diet which causes diabetes as much of their food is flown in. Chicken and rice are seafreighted and are a major part of the diet, vegetables are flown in so they become very expensive – the price of broccoli is what you would expect to pay for a good cut of steak.
What is the benefit of these schools being built with sustainability as a key goal?
Most of the old schools were falling apart and unsafe. The school infrastructure they now have is far more durable and able to withstand environmental conditions. We can confidently say that even though coral aggregate was used with a high salt content there will be no damage to the concrete or structural integrity for generations of students. Over time, access to a good educational facility will hopefully help create a better economy and raise their standard of living.
---
About the author: Pete Renshaw is the Business Development Director at Pultron and serves as the Chief Technical Officer for Mateenbar Limited. He has over 25 years of experience working with pultruded composite product development.