Our Guide to Working with GFRP Composites in Construction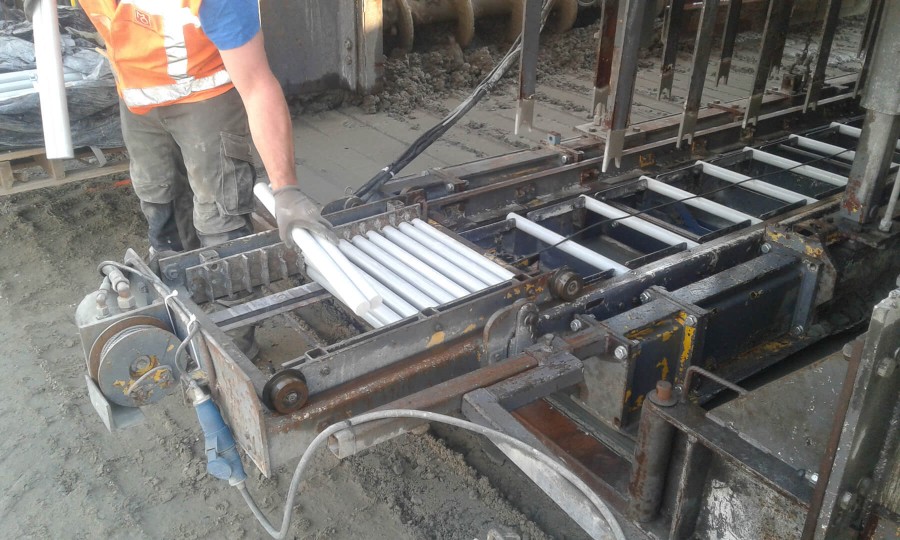 Glass fiber-reinforced polymer (GFRP) composite materials offer excellent durability, making them ideal for construction. With just a few handy tips, you can work with GFRP composites safely and efficiently to create long-lasting structures.
What Types of GFRP Products are Used in Concrete Construction?
GFRP products are used in all types of concrete construction projects such as retaining walls, foundations, bridges, and other reinforced structures. Popular types of GFRP products used in these applications include rebar, rock bolts, dowels, form ties, and thermal insulation pins.
GFRP offers multiple advantages that are ideal for use in construction:
They are corrosion-resistant and can confidently be used in a variety of corrosive environments.
They are lightweight (1/4 the weight of steel), making them safer for laborers on-site.
They are non-electrically conductive.
They have excellent thermal insulating properties for projects requiring energy efficiency.
How to Store GFRP Composite Products
Common sense is the best approach. Ensure the products aren't damaged during storage. Products that are designed to be buried in concrete do not need any UV resistance for the application, so typically do not have any UV inhibitors added. If they are to be stored for a long period of time, they should be covered or otherwise kept out of direct sunlight. They should be kept clean and inspected before use.
How to Purchase Quality GFRP Construction Products
Always choose a manufacturer who runs a comprehensive quality program and a laboratory equipped with a Differential Scanning Calorimeter (DSC) and a Dynamic Mechanical Thermal Analyzer (DMTA). These specialized instruments are used to determine the glass transition temperature and degree of cure of composites.
Both test methods are essential components of any pultrusion quality control program, which includes a variety of testing methods, as shown here: Pultrusion Testing Standards List.
The strength, durability, and quality of the GFRP product you purchase are one of the most important criteria to consider, as they will directly affect your end product. Some GFRP products may be cheaper, but may not last as long or perform as well as higher-quality materials.
How to Work with GFRP Products during Construction
When working with GFRP composite products, there are some distinctions to be made. Rebar, dowels, and form ties give good examples of how working with GFRP products differs from working with traditional materials.
Working with GFRP Rebar
The design of the structure and the differences between GFRP and other materials must be considered. For example, you can't simply swap steel rebar for GFRP rebar. The material properties are different, and these must be considered in the design. There are codes such as the ACI 440 series of documents, which covers design codes, product performance & quality. Engineers should become familiar with these codes.
Similar to steel rebar, it must be correctly placed and held firmly for the concrete pour. Bars, except those to be placed in vertical mats, should be tied at every intersection when the spacing is more than 30cm (12 inches) in any direction. Where the spacing is less than this, the bars should be tied at every intersection or at alternate intersections. Ties maintain the position of the reinforcement during the pouring and setting of concrete. They do not need to provide permanent strength to the structure.
Always ensure bars do not float upwards and out of position during concrete placement and consolidation. If movement is detected, the pour should be halted whilst additional support or fixtures are added. GFRP rebar can be used and tied in with steel bars. The same tying method as steel should be used in order to achieve the best performance.
Nicks, scrapes, and cuts that do not exceed 5% of the depth of the bar are acceptable. Beyond 5% we recommend the replacement of the bar or using a lap splice on either side of the damaged bar. GFRP rebar is not like coated steel rebars, so small surface scratches do not need to be repaired to protect the bars from corrosion; they are corrosion-resistant all the way through.
Due to the nature of GFRP rebar, bends cannot be bent on-site. All bends are factory-made and delivered to exact specifications. A variety of shapes, stirrups, and bespoke bends can be produced.
Working with GFRP Dowels
GFRP dowels are designed for low bond strength, so do not require greasing or other bond-breaking preparation methods. This makes them quicker to install and long-lasting. GFRP dowels (pictured above) can be installed using standard installation methods including slip-form pavers, baskets, and dowel insertion machines.
Working with GFRP Form Ties
Most form-ties within the concrete are designed to be broken off or unscrewed. The remaining holes are then filled with mortar or ready-made plugs. This slows the process considerably, leading to lost production time and increased costs.
GFRP form-ties are designed to stay in the concrete and are sawn off when the concrete is set, leaving a concrete-colored 'plug' that blends well with the concrete. No filling of holes with mortar is required.
GFRP Construction Products vs. Traditional Construction Materials
The main differences between GFRP and traditional materials are:
Strength-to-weight ratio.
High stability.
High durability.
Glass fiber-reinforced polymer composites typically have a very low weight, and higher strength than regular steel, timber, or aluminum. GFRP provides excellent resistance to cracking, shrinking, and thermal expansion and contraction. Furthermore, they don't rust like steel which results in a longer service life.
Safety Measures for Working with GFRP Products
Dust and fibers may cause temporary skin itching due to the glass fibers. When working with GFRP products during construction follow these health and safety tips:
Always wear protective eyewear, gloves, long sleeves, and long pants when handling any GFRP product.
When cutting or drilling GFRP composite products, always wear a dust mask and eye protection to prevent irritation. Where possible, cut in a ventilated area.
If glass fibers or dust come into contact with your eyes, flush with water for at least 15 minutes and contact a physician if the irritation persists.
Standard health and safety practices used on construction sites are usually appropriate.
Increasing Durability and Cost-Effectiveness with GFRP for Concrete Construction
Concrete contractors are increasingly turning to GFRP (glass-fiber reinforced polymer) products as the building material of choice for concrete structures. GFRP products are ¼ the weight of steel which can often mean less need for heavy lifting equipment or extra labor. This can be factored into your scheduling when planning your labor, project timeline, and equipment requirements.
Find out more about our Composite Infrastructure Solutions brochure here.
Have questions about composites and pultrusion? Talk to one of our experts.